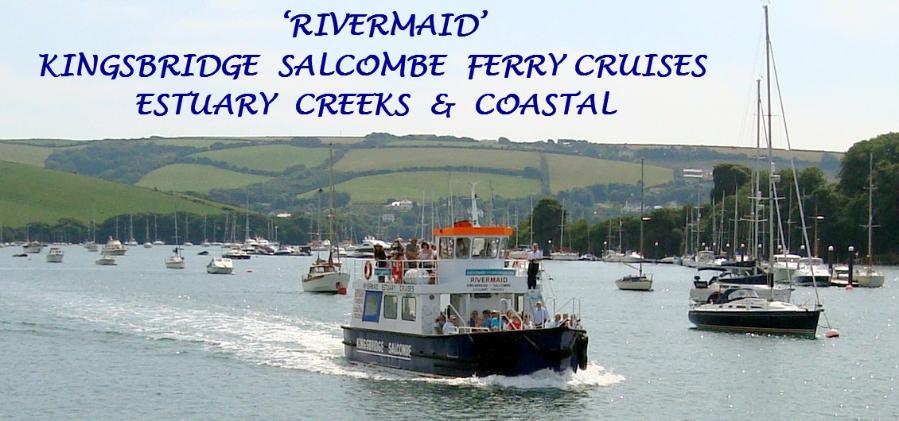 The passenger vessel 'Rivermaid' operates the ferry service and various cruises on the sheltered scenic estuary waters between Kingsbridge and Salcombe during the summer months in the beautiful South Hams region of South Devon.
The estuary falls within the South Devon Area of Outstanding Natural Beauty and has been designated both a marine Site of Special Scientific Interest by English Nature, as well as a marine Local Nature Reserve by South Hams District Council.
Kingsbridge Salcombe Ferry Cruises
A scenic 35 minute trip each way follows a meandering channel past waterfront homes, historic limekilns, Saltstone Island, considerable birdlife, hundreds of yachts and boats, and panoramic vistas of Salcombe.
Evening Creeks Cruises
Excursions venture up towards the upper reaches of some of the estuary's tranquil waterways which may include Frogmore, South Pool, Waterhead, Blanksmill and Collapit Creeks. Cruise duration approx two and a quarter hours.
South Pool Cruises
Occasional evening excursions up the creek to the quaint village of South Pool allows time ashore for exploring or a visit to the Millbrook Inn. Cruise duration including shore time approx three hours.
Estuary & Coast Cruises
Cruising the length of the estuary passing the many fine sandy beaches, the remnants of Fort Charles, crossing the 'Bar' and seaward, either in around Starehole Bay and the Cliffs of Bolt Head, or out past Gara Rock towards Prawle Point the site of many shipwrecks. Cruise duration approx two hours.
2018

Rivermaid CHRISTMAS and NEW YEAR sailings & updates

See Timetable page
or for further information
ferryoffice@egremontferry-salcombe.co.uk
Estuary Cruises
Cruising the length of the estuary passing the much sought after waterfront homes of Salcombe, the sandy beaches opposite, the remnants of Salcombe Castle, North and South Sands, and extensive views out to sea as the vessel turns near the harbour entrance. Cruise duration one and a half hours.
Estuary & Harbour
As above with a detour directly past Salcombe waterfront, the old Custom House, the modern Tamar Class lifeboat 'Baltic Exchange III', and a look up Batson Creek. Cruise duration one and threequarter hour.
Harbour Cruises from Salcombe Departing Salcombe Ferry (Inn) Steps for short half/threequarter hour cruises around the harbor and into the sheltered mooring area of The Bag.
The double deck passenger vessel Rivermaid was purpose built in 1997 for operating on the shallow tidal waters of the Salcombe Estuary and is also available for private hire.